Welcome To Compton Youth Academy

Major League Baseball's first Urban Youth Academy was founded in 2006 in Compton, California. As a not-for-profit organization, the UYA aims to set the standard for baseball and softball instruction, teach and educate in Urban America and enhance the quality of life in the surrounding communities.
Major League Baseball has set out four facets to the Urban Youth Initiative:
1. Grow the games of baseball and softball while cultivating diversity in all aspects of the game
2. Make meaningful contributions to the development of urban communities
3. Provide safe and organized recreational activities for urban youth
4. Prepare urban high school players for college and professional baseball and softball programs
Our coaching staff consists of highly experienced baseball and softball personnel. We specialize in fundamental instruction by way of open workouts. Our workouts give members practical and theoretical training on the fundamentals of the game, while our educational component aids students in the classroom. We believe the skills learned in baseball and softball can be applied beyond the field, helping to shape a better community.
Registration is FREE but we kindly ask for a $25 donation for each child when first registering for a program at the Academy. The DONATION is optional and additional contributions are always welcome.

Please upload your child's most recent report card (e.g. PDF, jpeg or screenshot - File size 3 MB or less) during the online registration.

Contact us via email at comptonuya@mlb.com

CLICK HERE to read more about the DONATION process.
NOTE: Anyone parking on campus must display a valid Compton College parking permit on their vehicle. $3.00 daily permits may be purchased at automated stations, located in parking lots F & H, and also near the Administration and Math/Science buildings.
CLICK HERE TO VIEW ACADEMY MAP

CLICK HERE TO VIEW COMPTON COLLEGE'S PARKING INFORMATION
Also as a reminder, ABSOLUTELY NO PETS are allowed at the Academy.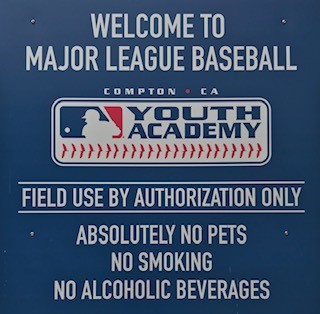 CONTACT US:
Phone: (310) 763-3479
Email: comptonuya@mlb.com
Address: 901 E. Artesia Blvd., Compton, CA 90221
Our office is located on the Compton College campus, behind the football bleachers.